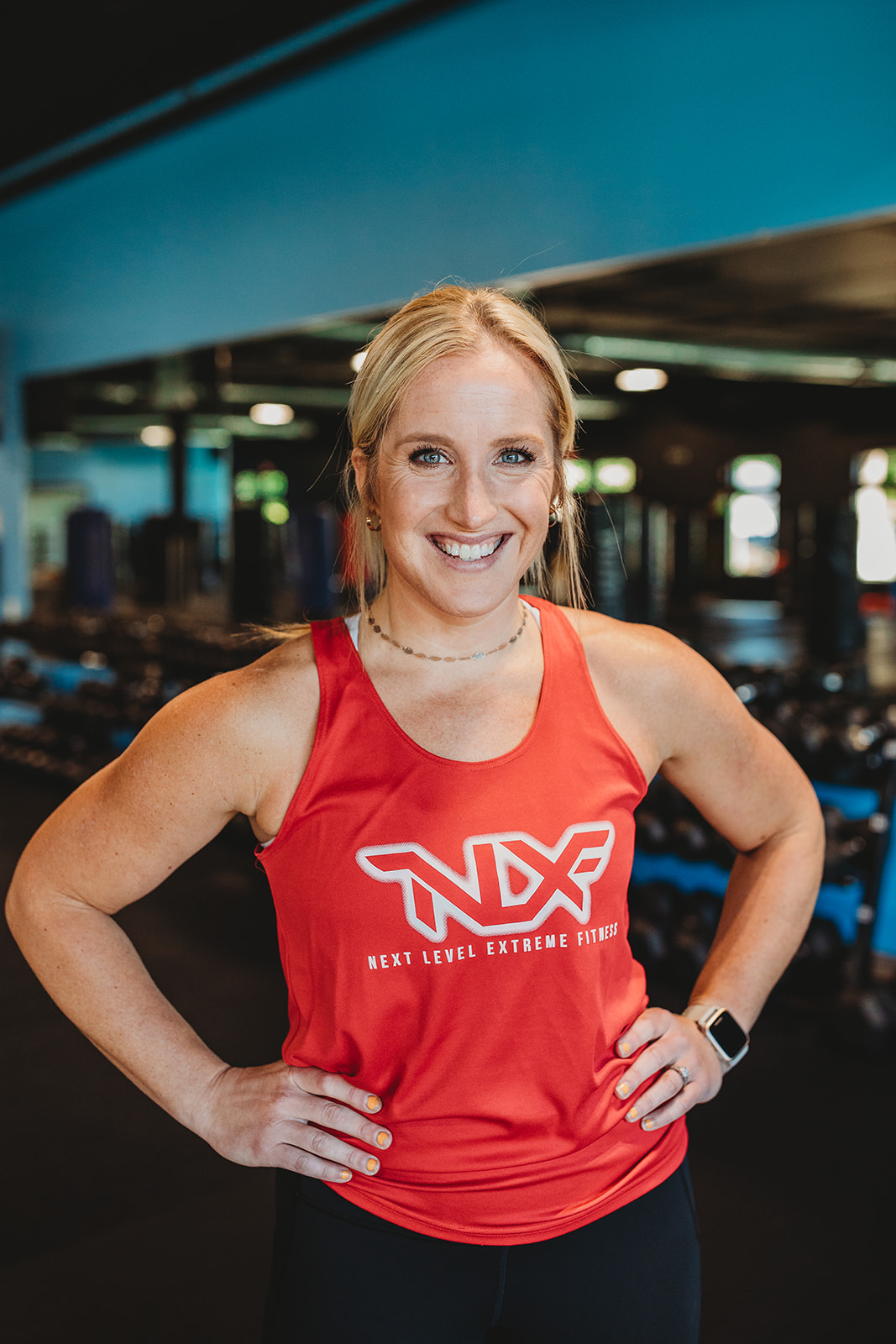 Q: How did you become involved with NLXF?
A: I have happily been a part of the NLXF family since session 1. I was quickly approaching 1 year since I had my second son and was not happy where I was at—I was the heaviest I've ever been—EVER! NLXF popped up at just the right time. I saw Facebook posts about free trial classes, so I decided to jump out of my comfort zone and try them out. Obviously, the rest is history. I even convinced my husband to join, and our whole family (including our 2 boys- -1, 4– will frequent 9 am together)
Q: What excites you most about being a part of the NLXF training team?
A: The fact that I get to come to "work" and encourage people that I've grown to consider friends. I have a passion for NLXF that I hope is evident, and it is unreal to me that I get to share that with others. I can't wait to help people achieve their goals- Don't be afraid to pull me aside to discuss yours; I'd love to help you!! I'm also excited to continue working out with the members daily; after all, my success in this program belongs just as much to the members as our awesome trainers. P.S. I love a little competition, especially when it comes to burpees!
Q: What makes NLXF different in your eyes?
A: The relationship between the trainers and members!!!! Hands down! The trainers form personal relationships with the members making it feel like a family where everyone is challenged to better themselves every day. It starts with the trainers teaching diverse workouts and ends with a high energy class with support from everyone involved in the program. The electricity in the room is unmatched by other gyms and programs.
Q: What are some goals you have as a NLXF trainer?
A: I want to provide a positive workout environment while challenging people to become a better version of themselves. I think it's important to form relationships with the members so I am able to recognize each member's potential and use that to push them to lift heavier or encourage them to do one more pushup on their toes. I want to be relatable and approachable- I've been in your position before; I know it's hard, but this program is about what you put into it. I know what it's like to walk into this program and not know a single person, or what it's like to face plant during a push up because you've maxed out your arms. I understand that life happens, but it's about how you rise up. Most importantly, I want everyone to know that I care about their personal fitness journey and would love to help you smash your goals.
Q: Lastly, if you give a client who is on the fence one piece of advice about why NLXF is the right program for them, what would it be?
A: What is your excuse for not working out? Do you have kids? NLXF offers FREE childcare. Can't attend the same class time every day? That's ok; attend any of the 5 classes offered every day. Afraid of getting stuck in a "gym rut?" No worries, NLXF promises to never repeat a workout! Showers are available in the facility and modifications are provided making the program appropriate for any age. Now that's what I call, "NO EXCUSES." I love having one hour every day to completely focus on myself and now I get to help others do the same. There's literally nothing to lose (except inches)!!!!!! I look forward to seeing you all in the gym! Let's do this NLXF North Liberty!!!